*Lundby Dollīs house 1960īs - 1970īs *

Please scroll down


Lundby Swedish house from the 1950īs - 1960īs I think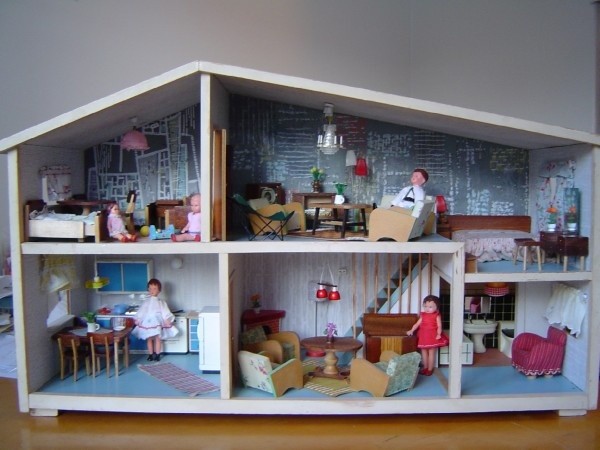 Lundby furnished as I rememer that it looked like in the peoples home that
knew as a child. The parents very often had to sleep in the livingroom as
they could not afford aparments that were big enough

Childrens room. I made all the curtains
in this house

Childrens room, overlook, to show the
fabric in the beds
| | |
| --- | --- |
| The kitchen | The livingroom |
| | |
| --- | --- |
| The hall and relaxroom | Very nice old bathroom |

Lundby house from the 1960īs - 1970īs I think

This house stands on grey legs

Kitchen. I made all the curtains in this
house

Bedroom has the same kind of furniture
that my sister and I had as children
| | |
| --- | --- |
| Livingroom | Hall and music room |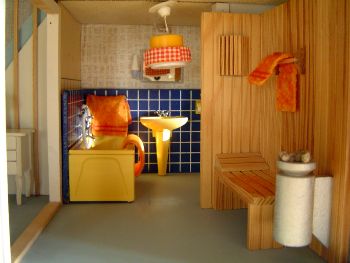 And the bathroom with a sauna, the sun is
shining trough the window
"Keep away the dust from your dollhouses
that has no front doors."

Since I do not want a lot of dust in my dollhouses I have
made simple plastic covers for the cabinets fronts. The
picture show I have attached them on my Lundby Houses
I have used postal clips to fastened these plastic covers,
but velcro works well to.
Easy to remove and put them back again when you want.
I made a model/pattern of paper first.
There are other ways to attach them, without damaging the
edges of the houses.


And here we have a few of the genuine Lundby Family from 1970īs - 1980īs

Lundby Family from 1970īs. The big girl
Anne is from1980īs

The Family without clothes. This is what
the genuine Lundby Family looks like.


The mysterious Children
(still in there box)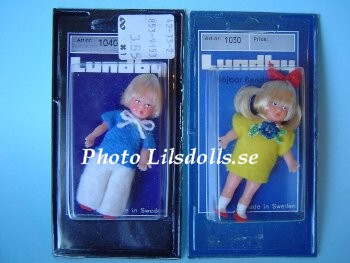 1970īs Lundby Children Made in Sweden. NRFB.
I have seen the same dolls in a box from another
company with four dolls, that was marked "Made
in Germany" ??


Lundby Family From the 1990īs until Today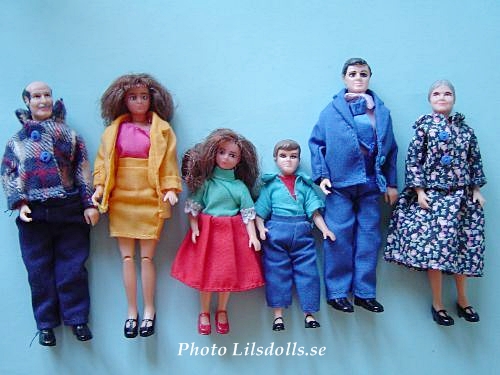 This is some members of the Lundby Family from around
mid. 1990īs. They still looks the same today.


2006-05-03/LIL
Home to Lilsdolls